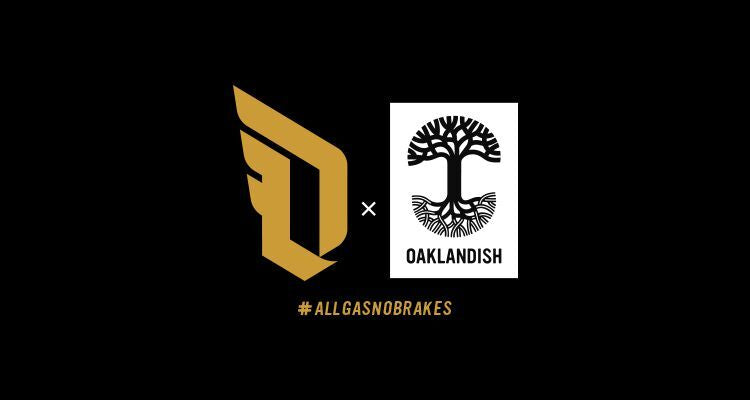 Oaklandish x Damian Lillard = All Gas, No Brakes
Normally, we'd say screw the rumor mill and everyone in it, but not this time. These whispers carry weight, and are dropping like Santa's sack of presents arriving for an early Christmas surprise. We are pumped to announce the launch of our exclusive All Gas, No Brakes collection designed with Oakland native son and NBA pro, Damian Lillard. Inspired by his on-court presence and undying loyalty to his hometown, the collaborative designs mash up Lillard's trademarked "D" with our classic rooted tree on street-inspired sportswear.
Those who have followed Lillard's career can see how he embodies The Town in his game – from his hustle mentality and smooth style, to his cold mouthpiece off the court. Now you can channel his swagger from head to toe.
The All Gas, No Brakes collection includes a sports headband, snapback hat, two t-shirts, a thermal, long-sleeve, and zip-up hoodie. And those who are down for the hunt can stalk a pair of our extra exclusive, limited edition adidas x D Lillard 1 Oaklandish edition basketball shoe  (not available in Oaklandish stores).
All Gas, No Breaks is available in both Oaklandish shops (1444 Broadway & 3419 Fruitvale Avenue), as well as online at oaklandish.com. Peep the line, cop your own, and stay tuned for more from the ILLard! 
The adidas x D Lillard 1 Oaklandish edition basketball shoe is available at the following locations:

Foot Locker (Select Locations)
Premier Boutique
Shoe Palace (All Three)
Eastbay.com
Adidas in San Francisco
Adidas.com (US and China)