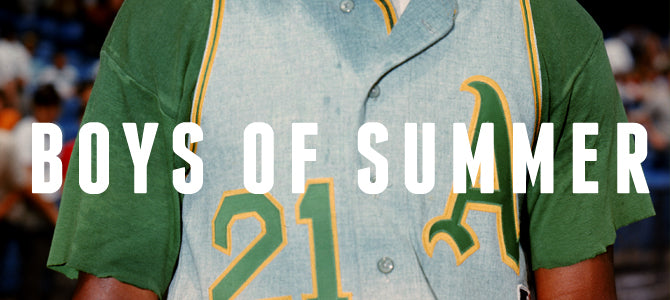 Boys of Summer t-shirt giveaway
Travel back in time to the 1969 Summer of Love with the Oakland Athletics on Saturday, July 27th. We partnered with Tribune Tavern (in the landmark Tribune building) and the Oakland A's on the Boys of Summer t-shirt, celebrating A's players from 1969. The Boys of Summer are pitcher James "Catfish" Hunter, third baseman Salvatore Bando, pitcher Rollie Fingers, pitcher Vida Blue, shortstop Bert Campaneris, and left fielder Joe Rudi. The first 10,000 fans to arrive will receive the throwback Boys of Summer t-shirt, presented by Tribune Tavern, upon entrance to the ballpark.
The 1969 Turn-Back-the-Clock giveaway will also feature 1960's fashion and music throughout the O.co ballpark and both the A's and Angels will don their grooviest throwback uniforms from the era. The game starts at 12:05 pm. 
Come watch the A's beat the Angels, receive your free throwback tee, and get ready to celebrate like it's the summer of '69.