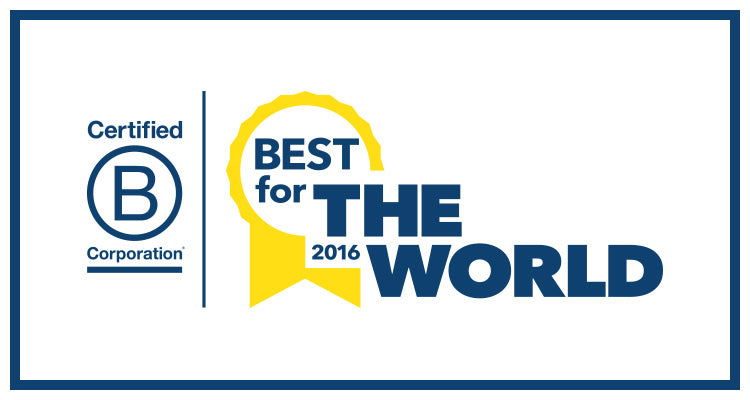 Oaklandish is a 'Best for the World 2016' Honoree!
"The B Corp movement is one of the most important of our lifetime, built on the simple fact that business impacts and serves more than just shareholders—it has an equal responsibility to the community and to the planet."- Rose Marcario, CEO and President of Patagonia
Oaklandish is EXTRA proud to announce that we were among the '2016 Best for the World' honorees! Oaklandish earned a score in the top 10% of all B Corporations of our size in Community Impact! It is great to know that our work in and for Oakland has been recognized by B the Change Media!
Not Familiar with Benefit Corporations?
Keep on Reading
B Corps matter.
Why You Ask?
Well, let's break it down:
Individually, B Corps meet the highest standards of verified social and environmental performance, public transparency, and legal accountability, and aspire to use the power of markets to solve social and environmental problems.
Collectively, B Corps lead a growing global movement of people using business as a force for good.
Through the power of their collective voice, all companies aim to have will compete to be best for the world, and society will enjoy a more shared and durable prosperity for all.
That's why is was so amazing when B the Change hosted the first Best for the World honoree event this past Thursday at UC Berkeley's Zellerbach Hall. The event had multiple panels and one-on-one discussions with the likes of New Belgium Brewery Co-Found Kim Jordan, Patagonia CEO and President Rose Marcario and former Massachusetts Governor Deval Patrick.
The day was magnificently structured and guided by B the Change Media's CEO Bryan Welch, who's enthusiasm for the B Corp movement was palpable and beyond optimistic.
The pool of 1000+ B Corps around the globe are aiming to fundamentally change the ways we define success in business. Here is what they call the B Corp Declaration:
The acknowledgement of our efforts has helped reinforce our mission and core values from both individual and company-wide standpoints. We look forward to improving our efforts and spreading the word about B Corps and the businesses for change movement!