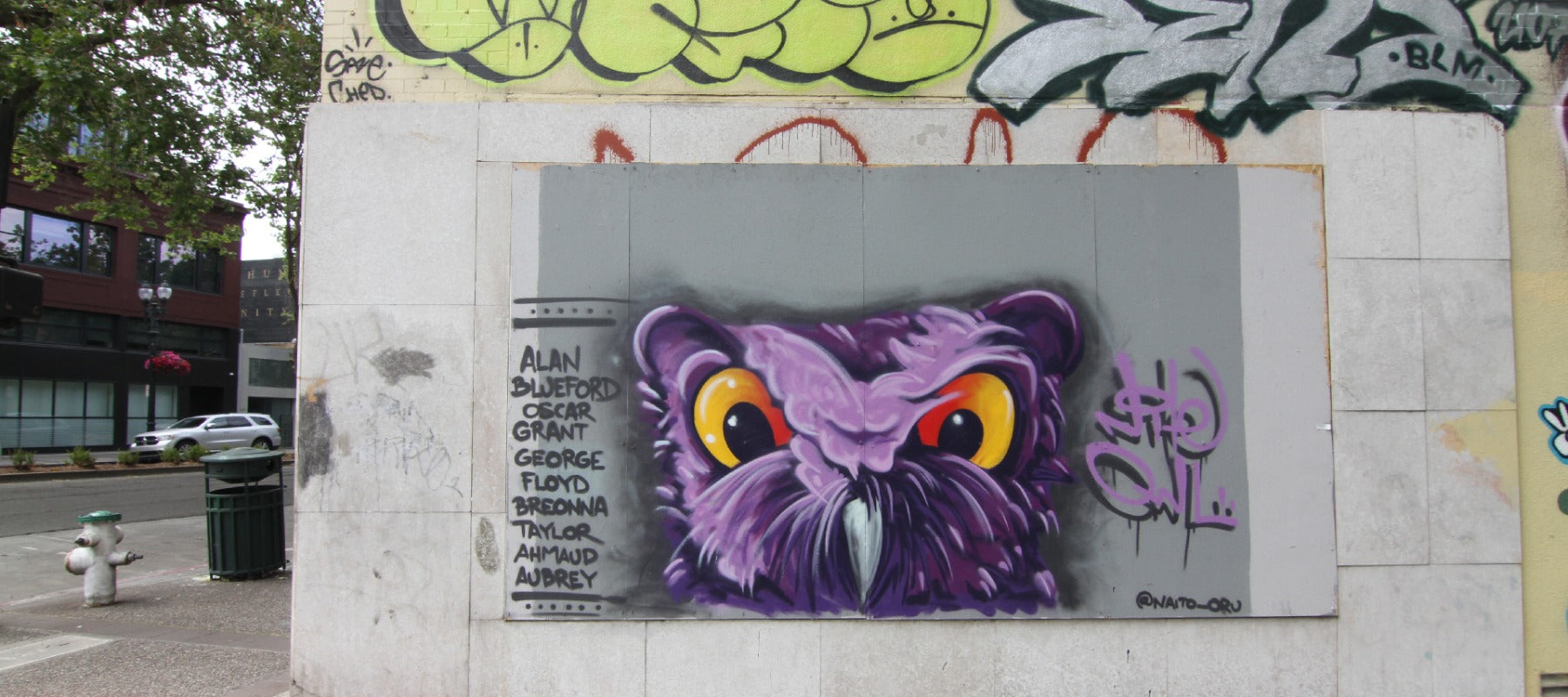 We Are Oaklandish: Nite Owl
How did Nite Owl come to life?
With a lot of coffee and late nights. LOL.
How do you characterize your work?
I primarily create character based art that is full of color and attitude. Inspired by the streets but refined for a gallery.
How have Oakland and the Bay Area influenced of inspired your art?
The town is so vibrant and alive and full of creatives that it is hard to not be inspired. There is a constant source of artistic energy coming from the residents here.

My work vibes off the rawness of Oakland. There is a blue collar DIY work ethic that inspires me to experiment and try out new things. Oakland is just full of creativity.

I moved to Oakland in 2008 with every intention of being in San Francisco before the end of the year. it's 2023 and I'm still in Oakland with no thoughts of leaving.
What do you think makes Oakland Unique?
The diversity of everything. There are so many different cultures here to vibe off of and so many different things going on. There is so much to celebrate.The town is wild.

I fell in love with its setting within the Bay, the lake and the hills keeps it interesting. Most cities only have one feature but Oakland has so much going on inside it.
What is your favorite type of canvas to share your work?
Old wood is my favorite. It just has so much character. The wood grain, the scars and the weight all add a special something to the finished artwork that a linen canvas never could.

I like to walk the train tracks in the East to find discarded pieces of wood or go out to the coast of Pacifica and look for driftwood. 
Where can we find some of your pieces in Oakland?
Just look at the backside of any street sign or newspaper box and you'll most likely find one of my owl stickers. I have murals scattered all around Oakland, but the best places to find them are in the Telegraph Ave and First Friday area, Jingletown, alleyways in the East Chinatown, random bandos and the Hella Positive shop in West Oakland.

If you have a wall that needs some owls, hit me up!
***
Oakland is diverse, and Oakland is proud. 'We Are Oaklandish' is a storytelling project created to highlight just that.

These stories shed light on the different experiences, memories, and opinions of the people in the city we all love. They are people who give our city its oddball spirit, its passion for justice, and its creative vigor. They lift us up with laughter, peace, nourishment, and authentic hard work. 

They make us proud to call this town our home. They are Oaklandish.
Shop: Nite Owl 
Read more: We Are Oaklandish