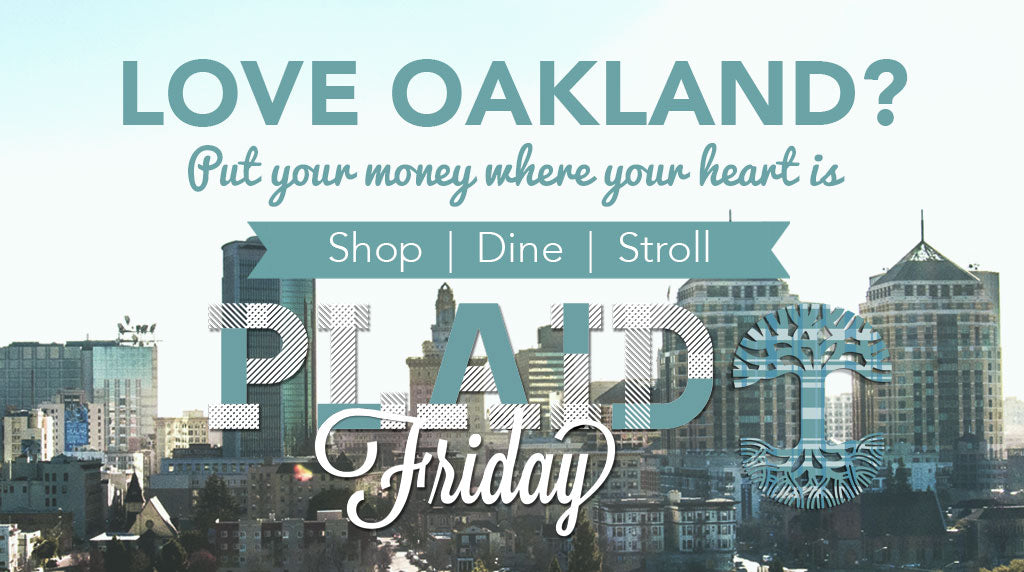 In Oakland, we don't celebrate Black Friday, we celebrate Plaid Friday! The name Plaid Friday was conceived from the idea of weaving the individual threads of small businesses together to create a strong fabric that celebrates the diversity and creativity of independent businesses. Plaid Friday is the relaxing and enjoyable alternative to the big box store Black Friday, and is designed to promote both local and independently owned businesses during the holidays.
This Plaid Friday, we will have the requisite sales, but also some other activations to highlight other local, independent businesses. Together, we build a strong local ecosystem, invest in Oakland, create good jobs for Oaklanders, and have a great time!
At both Oaklandish retail locations, we will be offering: 20% off all tees, 30% off all outerwear, and 20% off all hats all weekend, from Friday through Sunday. At both BOSK and Oak Supply Co. you get 20% off purchases over $100 and 30% off purchases over $200. All of these promos are available in store only, not online.
Plus, we'll be debuting new Tacos Sinaloa x Oaklandish designs and one of their iconic orange trucks will be out front with food for purchase from 11am to 3pm. Extra bonus: everyone who buys one of the new Tacos Sinaloa designs that day will also get a free taco!
You'll also be able to shop scarves and bags from Oakland-based Semper Virens and browse jewelry, cards and more from other local makers.
At BOSK in Old Oakland, we'll be hosting our friends from Little Giant from 1-4pm. Any purchase from BOSK of $40 or more will get you a free mini pint of ice cream!
So come on out and meet your neighbors, #shoplocal and #supportlocal!
For more about Plaid Friday throughout Oakland, check out this list.
Plaid Friday weekend, November 23-25: 20% off all tees, 20% off all outerqwear, 20% off all hats. In store only. not available online.