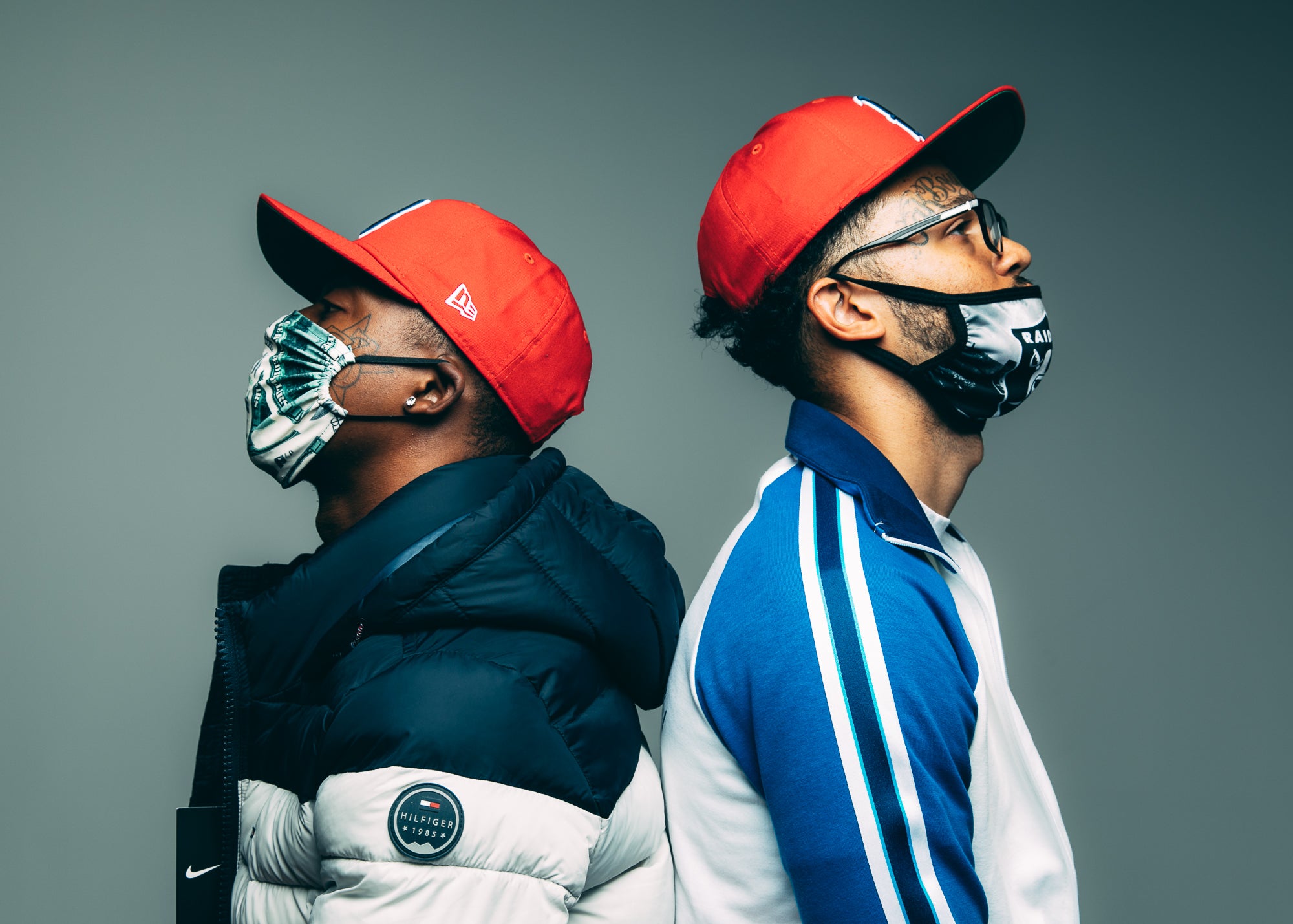 We Are Oaklandish: Khalil & Tre, Oak Boys
Khalil
We started our clothing line called Oak Boys in 2013 to foster inclusion. We wanted it to be hard and have an edginess to it. 
There's always been a lot of Oakland merchandise out there but most of the time it just says "Oakland." Our stuff is different. Our merchandise has got wild statements like "I wanna die and live Oakland." Fantasy things, ideas that are hard to imagine, and ones no one else is gonna make. That was always our motto. I love turning up on it like that. 
When I was younger I couldn't afford the stuff that I wanted to wear. And it's like, you saw one thing, you want another thing but would get something totally different. I felt there was never a garment that represented me that wasn't really expensive. 
I used to steal a bunch of shit. I used to shoplift like a mother fucker.  And it's still the same situation for a lot of kids. So I wanted to provide something that's just as cool as the things you can't afford but make them affordable and accessible. 
That's what also inspired me to create this brand, those feelings I had during my childhood.
Tre
I grew up in Oakland but also spent a lot of time in Baltimore. Being able to see what's going on out east and out west let me add something to this effort and make it different. I feel like since I've been back and forth between these two vibrant towns, I've got a unique view of things. 
Oakland is the only place I know where you can seriously sell your own vibe. People be doing all kinds of original stuff, and people be supporting them for coming out with their own wave, and are more willing to try new stuff out.
In some other places I've been, people think that if something ain't been called out by the main influencer or isn't already a trend, they don't wanna give it the time of day. They have tunnel vision. 
It's been like that since I was a kid. Oakland was the only place I know where people were wearing cartoon backpacks on their way to high school. Being free with our style out here provides a playground for people to come out with something new.
Khalil and his business partner Tre are Oakland entrepreneurs who started a business in East Oakland called O.A.K. A Town Business. However, most locals refer to their clothing company by their playful nickname - Oak Boys.
The Oak Boys are known for their irreverent designs that sport unexpected slogans like shirts with "Oakland Booty" scrawled across the front, or stark black hats that say "Funerals Ain't No Fun."
***
Oakland is diverse and Oakland is proud. 'We Are Oaklandish' is a storytelling project created to highlight just that.

These are stories that shed light on the different experiences, memories, and opinions of the people in the city we all love. They are people who give our city its oddball spirit, its passion for justice, and its creative vigor. They lift us up with laughter, peace, nourishment, and authentic hard work.

They make us proud to call this town our home. They are Oaklandish.
Read more: We Are Oaklandish