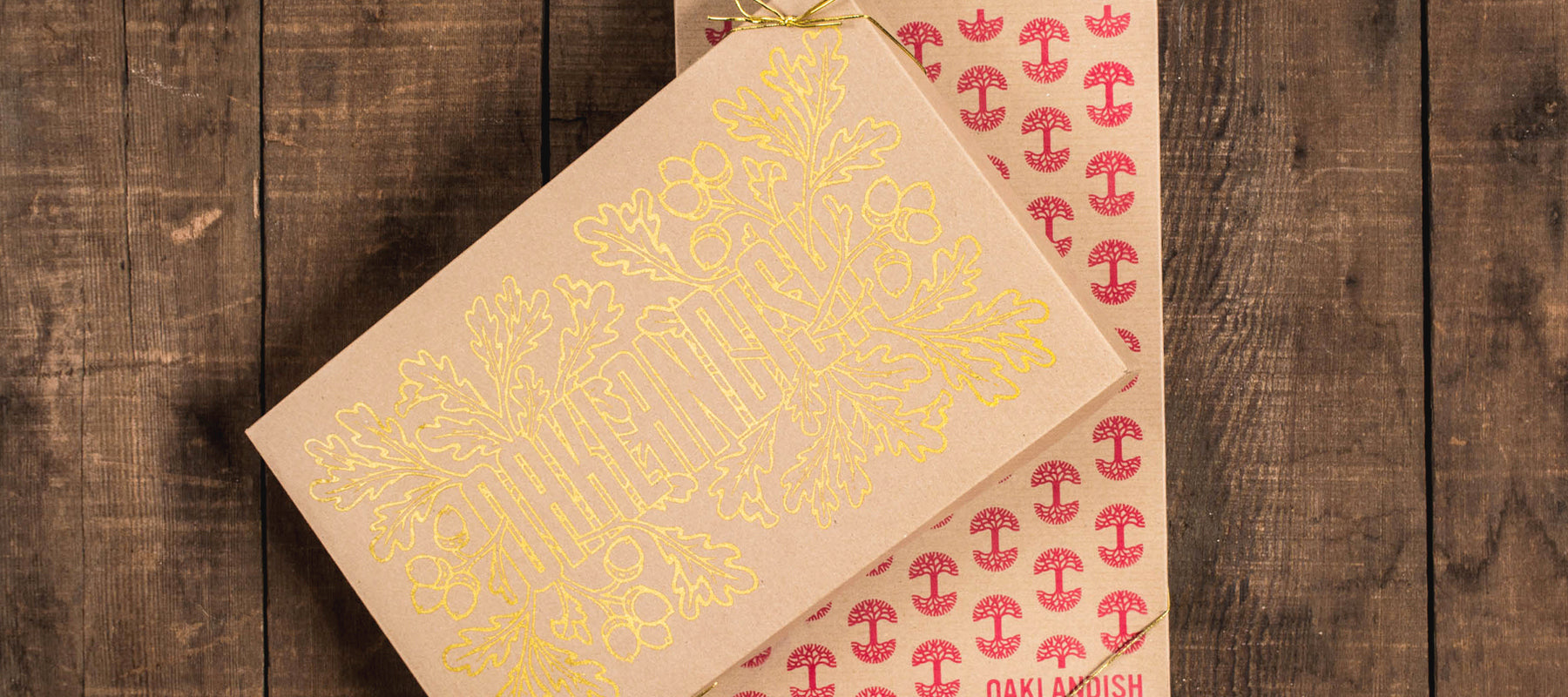 Giving Tuesday - Holiday Gift Box Fundraiser
We're thrilled to announce the four nonprofits we've chosen to be recipients of our gift box fundraiser this holiday season. We hope you'll join us in supporting the exceptional and life-changing work they do in the Bay Area.
Please support your community by shopping small and local this season. We also hope you'll drop by Oaklandish Downtown and Dimond retail stores and purchase a holiday-themed paper gift boxes. It comes with a pretty gold ribbon and some decorative tissue paper. When you do, we'll give you a wooden token you can then use to choose which of these four local nonprofits you want to support with your purchase. 
Every penny raised from the sale of our gift boxes will be donated to these impactful organizations that work every day to make The Town and the world beyond it a better place to be.
These are the organizations we are proud to support this year.
Homies Empowerment was founded by Dr. Cesar Cruz to serve and elevate Oakland's gang-involved and impacted youth. The organization started when Cesar started hosting weekly dinners and convinced gang members, often sworn enemies, to cook and eat together. He invited inspirational speakers and steadfastly promoted peace. The dinners flourished, growing from dozens to hundreds of participants, and many gang rivals cooked up new friendships.
Homies Empowerment also hosts educational programs in local high schools to teach Latino history, ethnic studies, and leadership. Their goal is to provide role models and heroes for Latino youth who otherwise would not have an opportunity to learn about their cultural heritage.
Everything that Homies Empowerment does is rooted in revolutionary love, sacred identities, putting in the work, and self-determination. They cultivate communities, seek food justice, and pursue cooperative economics in East Oakland by opening their hearts, arms, and doors to freedom.
The Urban Peace Movement is a racial justice organization working to transform the social conditions that create violence and mass incarceration in Black and Brown communities. Their unique healing-centered organizing model promotes youth leadership alongside hope, empowerment, and organizing for positive community change.
UPM strives for social and economic justice and more peaceful communities through free community healing workshops and wellness advocacy. They also provide a safe place for people to gather and celebrate Oakland.
The Black Liberation Walking tour is a community-created interactive collection of mapped assets celebrating the multi-generational Black history and culture in the Hoover Foster neighborhood of Oakland.
It captures oral histories and documents the lives, art, and culture of long-time residents and local historical figures. The goal is to reinvigorate and raise awareness about rapidly disappearing Black cultural spaces.
The tour is led by its creator, David Peters, a third-generation resident of the Hoover-Foster neighborhood. It takes about two and a half hours and tops at ten historically significant locations.
The tour is sponsored by the West Oakland Cultural Action Network (WOCAN), whose mission is to preserve and uplift the socio-cultural, political, economic, and social conditions of the Hoover, Clawson, and McClymonds neighborhoods. Donations will help to fund public scholarships for these important walking tours.
Community Kitchens is a nonprofit food justice organization that has operated a free, accessible meal program in Oakland since 2020. They bring together restaurants and grassroots organizations to feed people left behind by other food programs especially the unoused and low-income youth.
Their Free Meal Program focuses on the whole person's health and offers nutrition, spirit-seeking dignity, and opportunities for community inclusion. Their goal is to create new foodways for communities where existing options are reinforced marginalization and contribute to persistent food insecurity.