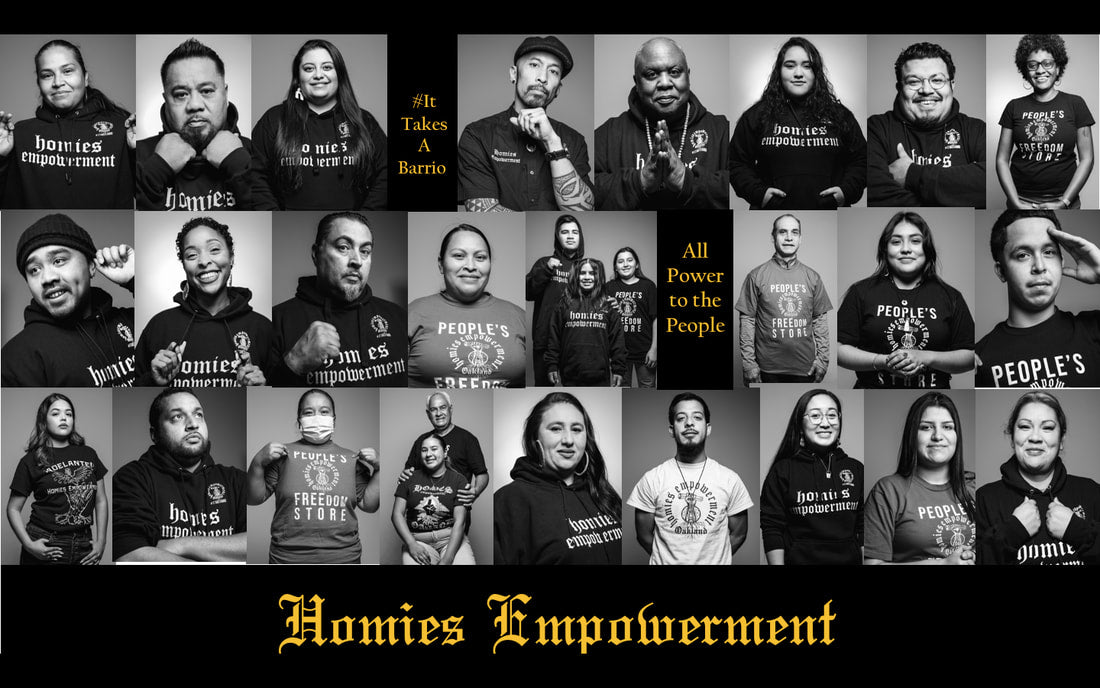 We are Oaklandish: Dr. Cesar A. Cruz, Homies Empowerment
Homies Empowerment serves up hope in a tough East Oakland neighborhood where positive role models are in short supply and gang violence is part of everyday life.
By every practical measure, César Cruz is a remarkable success story. He's an academic, author, public speaker, youth organizer, gang intervention specialist, and teacher. 
César holds a B.A. in history from UC Berkeley and was the first Mexican immigrant male to receive a doctorate in Educational Leadership from the Harvard Graduate School of Education. He's the Dean of the Secondary Schools Program at Harvard University and the author of two books, both of which have received worldwide recognition. 
César has won a multitude of prestigious awards. In 1995, he was given the Orange County Human Rights Award and in 2005, the California State Senate named him Peacemaker of the Year. He's also received the Outstanding Commitment to Justice Award from Pacifica Radio, a Local Hero Award from Comcast, and many other accolades including the Jefferson Award from CBS News.
However, César is too passionate about fighting for justice to take the time to bask in his accolades. This is because he knows what it is to struggle, and his path to success was a rocky one. He came to the US from Guadalajara, México as an undocumented migrant when he was nine years old. He was raised by a single mother in South Central LA, a community plagued by poverty, violence, and a short supply of hope.
When he was seventeen, César moved to Oakland and it was here that he found his calling as a justice advocate. It was The Town that inspired him to embark on his lifelong quest to lift Oakland's Latino and African-American kids out of violence and hopelessness.
In 1995, César led a 16-day hunger strike to advocate for affirmative action in Orange County, and in 2004, he led a 70-mile march and 26-day hunger strike to advocate for education rights in the West Contra Costa Unified School District. As a result of his efforts, the California Governor agreed to restructure the school district's debt and provide additional educational funding.
Eventually, César co-founded an Oakland-based, nonprofit called Homies Empowerment to serve and elevate Oakland's gang-involved and impacted youth. He started hosting weekly dinners and convinced gang members, often sworn enemies, to cook and eat together. He invited inspirational speakers and steadfastly promoted peace. The dinners flourished, growing from dozens to hundreds of participants over the years, and many gang rivals cooked up new friendships under César's guidance. 
Homies Empowerment also launched educational programs in local high schools to teach Latino history, ethnic studies, and leadership. His goal was to provide role models and heroes for Latino youth who otherwise would not have an opportunity to learn about their cultural heritage.
Despite his mainstream successes, César remains a self-avowed trouble maker. His approach is controversial and unorthodox and he's not afraid of ruffling feathers. He bucks conventional wisdom about gangs, and although he decries violence, he believes efforts to dismantle gangs are misguided.
César regards gang violence as the inevitable outcome of a sick society that manifests in neighborhoods with 150 liquor stores and no bookstores. He argues that gangs are simply fraternities of like-minded people primarily motivated by cravings for acceptance and love. He encourages gang members to redirect their energies and make a positive difference in their communities.
His efforts have paid off. César says, "Murder and violence are not the only things happening in Oakland. Peace is also happening. It is about growing hope from the bottom up, nurturing it out of cracks in the concrete."
***
Oakland is diverse and Oakland is proud. 'We Are Oaklandish' is a storytelling project created to highlight just that.

These are stories that shed light on the different experiences, memories, and opinions of the people in the city we all love. They are people who give our city its oddball spirit, its passion for justice, and its creative vigor. They lift us up with laughter, peace, nourishment, and authentic hard work.

They make us proud to call this town our home. They are Oaklandish.
Read more: We Are Oaklandish
Read More: Oaklandish Blog