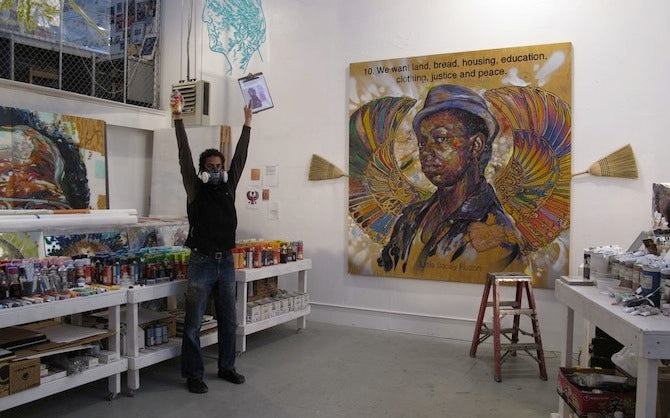 "You too are an unsung hero": An interview with Brett Cook
Brett Cook has some advice for the people of Oakland: "You too are an unsung hero. Just keep doing good work and Oakland will be better for everyone." Brett's paintings and installations have been displayed in museums all over the world, but he believes that art should also have a place in everyday life — as a way of reminding people of the beauty and potential all around them.
This year's Reflections of Healing project did just that. Cook created a series of portraits of Oaklanders who had worked to heal their communties, and displayed them in storefronts around town. And instead of painting these local heroes as adults, he worked from images of them as teenagers — as a reminder of the potential we all have to change this city. We talked to him about the champions among us.
Lots of your artwork in Oakland is installed in public places. How did you pick where to display the work, and what role do you think art should have in everyday life?
Reflections of Healing anchors Life Is Living, a national initiative that establishes a new model for partnerships between diverse and under-resourced communities, green action agencies, and the contemporary arts world. Locally, that involves a yearly festival at DeFremery Park in West Oakland. We are currently looking for permanent public locations for the first eight Reflections of Healing portraits.
I think of the final paintings as debris left over from people working together in radical transformation, radical exploratory growth. Any "stuff" left behind — including art objects — is a documentation of that growth.
I aspire for my art to be nurturing for me and for all things. By having the work exist and be created in an array of settings, the art becomes part of everyday life, ideally in a nurturing way.
The Reflections of Healing project illuminates Oaklanders who have created a legacy of healing in the East Bay. Which unsung local heroes do you think deserve more attention?
My hope is not to become the reference for the "who's who" of good work in the town. I want to suggest that there are countless great people around us, living with courage, compassion, and love. By acknowledging people from a variety of fields and legacies, we are reminded that they are always around us.
Picturing the models as adolescents emphasizes the collective potential of youth in the creation of loving community. Some of the portraits look really different than the models in their current adulthood. That distance encourages the portrait to be less about the perceived hero they are today, and more about the universal (s)heros we can all be.
Through our conversations with community partners, we chose these models to learn about and celebrate, but you too are an unsung hero. Just keep doing good work and Oakland will be better for everyone.
Lots of your work is interactive, and relies on an exchange with the audience. What do you want people to learn from your work, and what do you hope they can teach you?
For example, the Little Bobby Hutton Power Figure, like the Reflections of Healing project it is part of, illuminates the experience and history of the people of Oakland and reminds us that we are changed as individuals in the divine space of making our world together.
I get to be part of that as much as any of the participants, so the potential for my learning is limitless.
What's next for you? Any new projects, travels or collaborations in the works?
I am currently working with PBS' Art 21 on a documentary film project about my recent work in Nigeria as one of fifteen artists selected for the U.S. Department of State's smARTpower initiative. We created a series of public dialogues, workshops and one large collaborative public painting installation that will be featured in the video.
My next exciting trip is to New York for a book release. Queens Museum Director Tom Finkelpearl's newest book What We Made: Conversations On Art and Social Cooperation includes a chapter on collaboration and spirituality with artist Mierle Ukeles and myself.
Locally, I have been working with a documentary filmmaker on a video short about the 2012 Reflections of Healing participants and the process of making the latest iteration of the project. I will be speaking about the Bobby Hutton Installation at the Oakland Museum on December 9th.
I also have lots of other little things bubbling, including coaching San Leandro teachers, facilitating professional development workshops with the Alameda County Office of Education and creating "making learning visible" installations at various locations in the East Bay. And I volunteer in my seven year old son's classroom every Friday — one of my greatest locations for learning, teaching, and collaboration.
Right now, there's a big debate over Oakland's future, and where the city should be headed. What do you wish you could change about this town? And what do you hope NEVER changes?
Everything is always changing, and I am constantly trying to surrender to the reality — even what I love about Oakland is going to change. My work is directly engaged with that impermanence — consistently integrating participants, materials, and ideas that manifest in forms, directions, and locations that I don't have planned.
What I am interested in is how my existence and actions determine what manifests and surfaces in the inevitable change. I believe my actions with my neighbors — in business and pleasure — is part of what determines Oakland's direction.
I am certain there is more I could do, but the process of meeting, learning, and sharing Oakland residents whose work is about healing has been a great way for me to inform my understanding about the Town. By sharing my process of learning with others, I dream that Reflections contributes to Oakland's inclusive aesthetic, where multi ethnic images of young people share perspectives on healing that are recognized, celebrated, respected and made commonplace.
Who else is doing good work in Oakland these days? Anyone who deserves a shout-out?
From street to street, from neighborhood to neighborhood, Oakland is filled with champions who work lovingly to build community. The 2012 edition of Reflections of Healing at Defremery Park celebrates community members Kokomon Clottey, Tarika Lewis, Phyllis Lun, and Keith "K-Dub" Williams who reflect the immediate location of the work's creation, and eventual installation in West Oakland.
While I focused on a small geographical area of Oakland for this iteration of the project, there was no shortage of possible models to incorporate. Through my work I want to encourage the practice of seeing the world through that lens of potential and plenty, wherever one may be. I deeply appreciate efforts like those by Oaklandish to shout-out those who are living with right livelihood.